Meet Updater: Chandra Robrock, Success Manager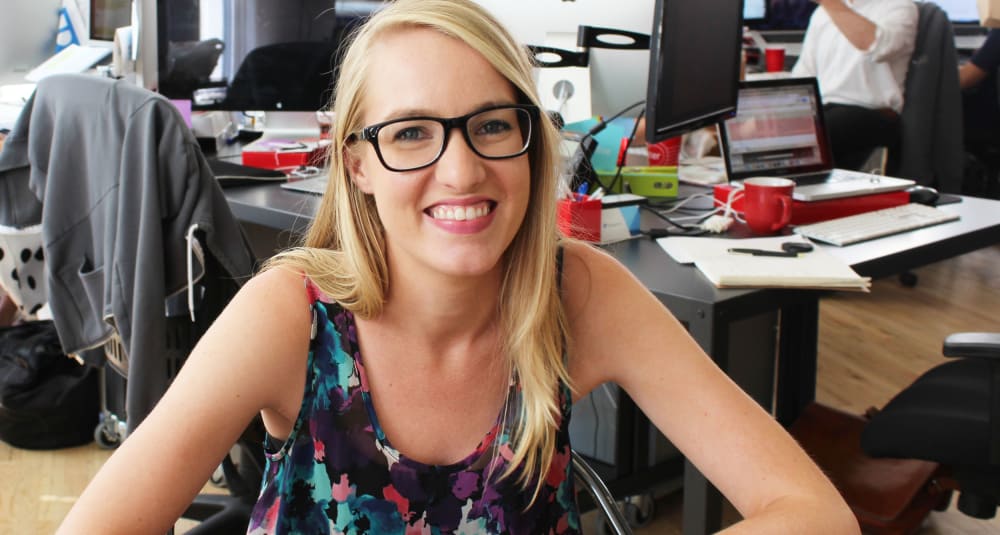 We sat down with Chandra, our hilarious Success Manager, college football fanatic, and Oreo enthusiast to learn more about what she loves about Updater and her worst moving experience... ever.
How long have you been working at Updater?
Exactly one year this month!
What do you do at Updater?
I like to say that I help the people who move as well as the people who do the actual moving. I'm responsible for ensuring our users have an awesome experience while also serving as the account manager for all of our moving company partners.
Do you have a moving horror story?
When I first moved to New York, I knew I was going to live with one of my friends, so I stayed in temporary housing until her lease ended. I had a few days in between when I needed to move out of the temporary place and into my new apartment, so I booked a hotel just a few blocks away from where I had been staying. I already had the majority of my clothes on a garment rack in my apartment, so I figured: Hey! I'll just use saran wrap to secure the clothing on the rack and then roll it to the hotel. After all, it's just a few blocks - what's the worst that can happen? My plan worked surprisingly well… until the garment rack broke in the middle of the street during the final stretch.

Here's a visual:
What's your best piece of moving advice?
Forward your mail at least two weeks prior to your move (unless, of course, your new address isn't finalized yet!). So many people wait until the last minute and end up missing a few pieces of mail.
Also, NEVER move during the summer in Florida. That heat will kill you.
What's your favorite Updater memory?
When I found out everyone was secretly singing the "Changes" song by David Bowie behind my back to learn how to properly pronounce my name. I have to admit, it worked excellently.
What's one thing about the relocation industry that you didn't know before working at Updater?
Just how many logistics are involved for moving companies. It's insane! Even coordinating in-home estimates with their sales reps can be tricky.
In your opinion, what's Updater's largest contribution to the relocation industry?
We really give moving companies the opportunity to brand themselves beyond just competitive prices and awesome Yelp reviews. The moving companies we work with genuinely want to help their customers, and their customers recognize that.
Describe your ideal moving experience.
I blink my eyes, and it's over.
You're about to move. What would you make sure to never do again?
I really don't think I could move without a moving company ever again. Earlier this summer was the first time I had ever used a moving company, and it was so simple and quick.
What's your favorite part about working at Updater?
The people. It's definitely a fun environment to work in. Plus, we're building an awesome product, and they laugh at my jokes
What's your favorite Updater feature? Why?
While I really love our "Update Your Accounts" feature, I'd have to say forwarding my mail without ever having to step foot in the post office was pretty great too.
What's the best part about working on a small team?
I love working on small teams! Before Updater, I worked on a team of only four people. With smaller teams, you have to work smarter and figure out how to do big things with very little resources. Plus, things change so rapidly, so you have to adapt very quickly and be open to learn new things.
What's the first website/app you check in the morning?
Email… because I'm addicted.
Where did you grow up?
I grew up in Florida so, it's safe to say that my friends and co-workers send me crazy news articles from Florida all of the time.
If your life was made into a TV series, which celebrity would play you?
Jennifer Lawrence, for sure. She's hilarious, down-to-earth, and loves food.
What are four things you can't live without?
Oreos, double stuf Oreos, mega stuf Oreos, and peanut butter cup Oreos.
What's your favorite Saturday Night Live skit?
In general, I love a good Debbie Downer skit, but my all-time favorite SNL skit by far is where Charlie Rose interviews the psychologists who were hired to devise tortures for the CIA. It's incredibly clever and covers all of the daily tortures Americans face on a daily basis including autocorrect, TSA security, and Time Warner automated call centers. Genius!
---
Jenna Davis
I'm a previous member of the Updater marketing team. A lover of all things coffee- and gardening-related, you can find me in pursuit of the best cup of coffee, or otherwise attempting to grow tomatoes off the fire escape in my tiny Brooklyn apartment.